Hotel Info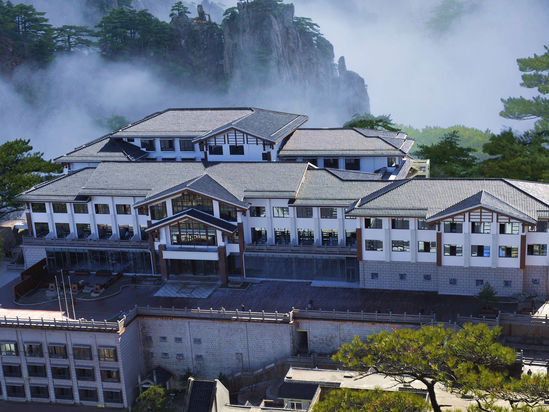 Xihai Hotel Huangshan
is located at the top of Huangshan Mountain, about 500 meters from the North Entrance of the Grand Canyon of the West Sea (Paiyun Pavilion).
The hotel is a high-end leisure resort owned by Huangshan Tourism (600054). The hotel is divided into two guest rooms, A and B, with bridges in the middle. It has more than 300 guest rooms of various types, complete facilities and complete functions, which can fully meet your needs. demand. In the morning, you accompany your lover into the forest path. The fresh air with high negative oxygen ions refreshes your spirit. In the evening, you take your child to the peak and chase the sun.
In spring, the revival of verdant green scrolls is full of vitality, you can enjoy walking or sit and watch Yunjuanyunshu; in winter, sit by the window at Shanzhilian Cafeteria, and the snow outside the window will accompany you to enjoy the delicious West Sea cuisine. When you are alone, you can take a break at Alice Bar and let the fragrant coffee accompany you to enjoy a "dazing" time. When your friends get together, you can choose a viewing box and let the clouds outside the window witness your warm moment to toast.
For business reception, you can choose to organize a meeting in the Buyun Hall (multifunctional conference hall), and host a banquet in the Xihai Ballroom. The oversized banquet table for 32 people will definitely meet your reception needs. Stay in the warm West Sea and enjoy five heart service. In addition, "private bespoke" themed rooms (such as birthday room, wedding room), as well as personal butler, attractions guide and other services, make your journey more convenient and comfortable.